2 years at Kinmen + 2 years in Taiwan Joint Degree Program
Established in 1999, the mission of Radio and TV Department is to cultivate outstanding talents in the field of radio and TV, with the educational goals of: 1. Strive for teaching excellence, cultivate talents in the field of radio and TV who are equipped with information technology application ability and creative and research ability; 2. Cultivate professional talents for radio and TV project planning and production; 3. Cultivate professional talents with global vision.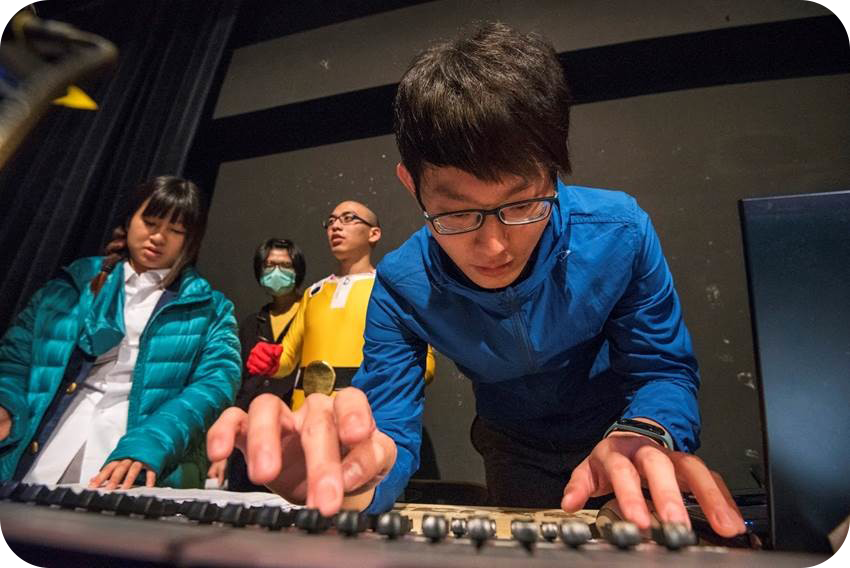 Since its establishment, the Department has adhered to the education focus of "Integrated Communication" in the School of Communication by recruiting professional faculty in radio, TV and relevant fields to provide high quality instruction and at the same time enhance the resource integration within the School and continue to establish a complete and comprehensive system for the department.
Regarding visual images, our courses focus on MV, micro film, documentary, drama, while extended courses include script writing, storyboard, and practical filming, editing and post-production. For programs, we introduce courses in online streaming using the lartist system and the Eight claw dragon (BaChuaRong) system and set these as the competitive teaching focus of the department. For sound, aside from traditional radio show production and broadcasts, we put equal focus on sounds, sound effects, and Fukien dialect broadcasting. A feature worth mentioning is that the pop music course taught by faculty from the industry has become one of our featured courses and has cultivated many talents in related fields each year.
The most distinctive feature of Radio and TV Department is that internship system that is adopted in the practice radio station and TV station. During the four years of study, students can learn to use the facility to record, film, edit, plan, host and simulate for producing programs, as well as how to maintain and repair the equipment from the basic level to advanced level. Moreover, we cooperate with School of Communication to promote the "Digital Multi-media Experiment Platform" to implement six goals including diversification, multimedia, multi-channel, digitalization, professionalism and integration for advancing the areas of integrating and reformatting.
The Department emphasizes students' mobility. Each year, many students participate in exchange programs with educational institutes overseas or 895 and 211 universities in China. Meanwhile, students from Japan, Singapore, Malaysia, China, Hong Kong and Macau are studying alongside of domestic students in the department. Over time, students' vision and cross-cultural communication abilities are enhanced.
TV News Division: News anchor, news reporter, news editor
TV Sales Division: TV station market analyst, TV station sales rep
Radio station News Division: Radio news reporter, radio editor
Further Study: The university provides a "4+1" program which allows students to take master's courses in their 3rd and 4th year of university. After students are admitted to the Master's Programs in New Media and Communication, they can complete their thesis or work report in one year and pass the oral examination to earn a master's degree.